I. Grilled chicken with pesto and marinated tomatoes from Fine Cooking, steamed broccoli, and a quinoa, artichoke, sun dried tomato, and feta salad.
II. Sesame skillet chicken from How Sweet Eats with brown basmati rice and vegetables stir fried in sesame oil.
III. Sweet potato "nachos" (inspired by Peas and Crayons) with Mexican spiced black beans, pico de gallo, guacamole, and plain yogurt.
IV. Honey almond coconut granola
V. Mega Life Salad from ReFresh with shredded carrots, beets, toasted seeds, marinated tofu, and sprouts over mixed greens with a cilantro ginger dressing.
VI. Chicken sausage on a whole wheat bun with grilled peppers, zucchini, mushrooms and red onion.
VII. Cheater baked beans from Veganomicon with a baked sweet potato and massaged kale
This post is part of the What I Ate Wednesday link up over at Peas and Crayons' blog. Click the link to go check out all the other posts!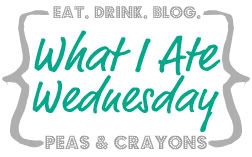 What have you been cooking lately?
Where do you get most of your recipes form: cookbooks, magazines, or blogs?