Ever since I got an iPhone a few weeks ago I've been too lazy to whip out my camera, so I've just been using my phone to take pictures. On the downside, their quality isn't that great, but on the upside, I've been taking a lot more pictures of my food. So today I just have a photo dump of some of the things that have been coming out of my kitchen lately!
I. Maple Dijon salmon with wild rice and this kale, cabbage and carrot salad.
II. Channa masala with brown basmati rice. This was my first time having channa masala and I'm definitely a fan!
III. Apple pie oatmeal: Cook 1/3 cup of oats with milk, chia seeds, raisins, cinnamon and 1/2 a chopped apple. Top with the rest of the chopped apple simmered with cinnamon, more raisins, and almond butter.
IV. After having the QuinWOW bowl at Kindfood this weekend I decided to try to make my own miso gravy. I'll have to do more experimenting to get it right, but this was pretty good for my first try!
V. Okay, so I know fro yo isn't something that I made myself – but I had to serve it myself and add my own toppings, so it sort of counts. The cookies 'n cream flavour from Yogurty's is awesome!
This post is part of the What I Ate Wednesday link up at Peas and Crayons' blog!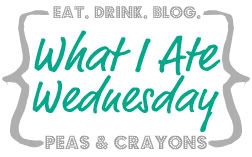 What have you been cooking lately?