Hi everyone! Guess what? As of yesterday, I am done all my papers, presentations, and course work. The only thing I have left between me and Christmas is one exam on the 14th. So I'm going home on Friday because I'd much rather study there than at school – I can't wait!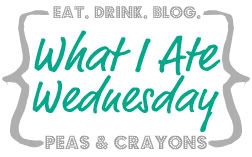 This week's What I Ate Wednesday post is another compilation of what I've been cooking lately, since I've definitely been making some meals worthy of sharing! Here's what's been on the menu:
Crispy honey chicken from How Sweet Eats – I loved this and couldn't believe how easy it is. Coating the chicken in cornstarch before stir frying tastes so much better than just using plain chicken. I'm going to be making it this way from now on!
Dijon-soy glazed salmon, balsamic maple roasted heirloom carrots, crispy kale with Parmesan and toasted almonds, and a hunk of baguette – Everything on this plate was so good! This was just a last minute meal that I didn't really plan, so I really impressed myself with how well it turned out.
Cajun stir fry with turkey sausage and bulgur – this was one of those "I need to use up my peppers and zucchini before they go bad" kind of meals. It would have been really boring if it wasn't for my Cajun spice blend, which makes everything taste fantastic!
A mug of President's Choice candy cane chocolate fudge crackle ice cream – this is hands down the best ice cream in the world. No holiday season of mine would be complete without it!
Oikos 2% vanilla Greek yogurt, Kashi Honey Almond Flax cereal, a banana, blueberries, and a big drizzle of Barney Butter – the perfect filling breakfast to fuel me through a morning of editing my resume for internship applications.
Shrimp and avocado rice bowl from Fitness magazine – this meal wasn't anything special, but it was still pretty good and really easy to throw together. Also it reminded me how much I like edamame – I need to eat it more often!
And now I need to get back to working on my internship applications for the rest of the morning. Have a great Wednesday everyone!
Have you made any new recipes recently?
What's your favourite ice cream flavour?