Hi everyone! I almost wasn't going to do a What I Ate Wednesday post today but since I found myself with a bit of extra time this morning, I decided to throw one together.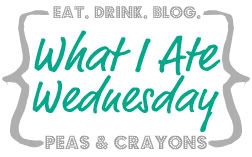 Things have been busy with school lately so I've found myself relying on a lot of simple meals that can be put together without much work and in a short amount of time. Things like…
A pita stuffed with hummus, avocado, cucumber, tomato, black olives, feta cheese and sprouts.
Egg and veggie scrambles with toast.
Egg white banana oatmeal with soy nut butter, granola, and raspberries.
Canned black beans sauteed with peppers and onions over brown rice with guacamole and fast homemade tomato salsa.
But to keep myself from getting too bored in the kitchen, I like to allow myself the time to make more elaborate meals every once in a while too. On Monday I made myself this awesome pork tenderloin dinner – it turned out really well, so I've got the recipe to share with you today!
Balsamic fig pork tenderloin
Serves 2-3
1 pork tenderloin (300-400 g)
1/4 cup fig jam
1 tbsp good quality balsamic vinegar
1/2 tbsp olive oil
1 tsp dried rosemary
Preheat the oven to 375°F.
In a small dish mix together the fig jam, balsamic vinegar, olive oil and rosemary. You may need to microwave the fig jam for 10 seconds to make it easier to stir! <
Place the tenderloin in a baking dish sprayed with cooking oil and rub the glaze all over it, making sure to coat it completely. Then place it in the oven and cook for about 30-35 minutes, or until a meat thermometer reads 145-150°F. Remove it from the oven and tent it with aluminum foil to let it absorb the juices for about 10 minutes before eating.
Now it's back to eating easy meals for the rest of the week, but I'm looking forward to the weekend when I'll have a chance to get back into the kitchen again. I've got so many ideas on my Pinterest board that I'm dying to make!
What was your favourite dinner that you made this past week?
What is a recipe you want to make soon?