As a self-professed foodie, I admit that I think about food a lot. What recipes to try next (Jamie Oliver's mushroom risotto is at the top of my list), what kind of sauce to make to pair with my pork tenderloin, what new products I want to try (miso paste), what I should buy at the farmer's market this week (fresh peas!), etc. It sounds exhausting, but it's just who I am!
Yet since starting my summer job, I've been thinking about food less and less. I just don't have the time! I find myself throwing together last minute lunches and scavenging through the fridge after my shifts to see what leftovers I can reheat for dinner – leftovers that I didn't even make myself! It's actually a really strange feeling. I'm not used to eating food at home that I haven't cooked myself.
Yesterday I was volunteering and working from 1 pm – 8:45 pm, so for this week's What I Ate Wednesday I've got a lot of easy snacks, fast meals, and leftovers in my day!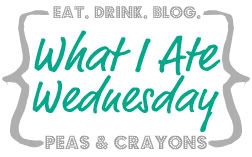 Breakfast was the only meal that I actually had time to cook, so I made oatmeal with banana, chopped cinnamon almonds, raisins, maple flakes, and cinnamon sugar almond butter.
Lunch was pretty rushed since I had to get ready to volunteer after my workout, so I had leftovers of my roasted chickpea salad. On the side I made a salad with the first picking of greens from my garden!!! I used romaine, red leaf lettuce, and escarole with cherry tomatoes, feta cheese, a good drizzle of olive oil, balsamic vinegar, and salt.
I packed an apple and a sun butter banana protein bar made with this recipe from Edible Perspective to take with me to eat between volunteering and work. I was a bit worried that this wouldn't be able to keep me full through my shift, but it was actually perfectly filling. I wasn't even hungry for dinner by the time I got off work at 8:45!
Since I wasn't that hungry for dinner I kept it light with a fried free range egg, steamed broccoli, reheated leftover roasted potatoes, and a leftover black bean salad from my family's earlier dinner. I love that this dinner took me less than 5 minutes to put together! I used to hate leftovers, but lately they're my lifesavers.
Even though I've found a way to handle my new work schedule and still find ways to eat healthy, I'm really missing getting to cook real meals and try new recipes. I feel like I'm experiencing what it's like to NOT be a foodie… and I don't really like it!
Leftovers – love them or hate them?
Do you take a lot of time to think about and cook your meals?